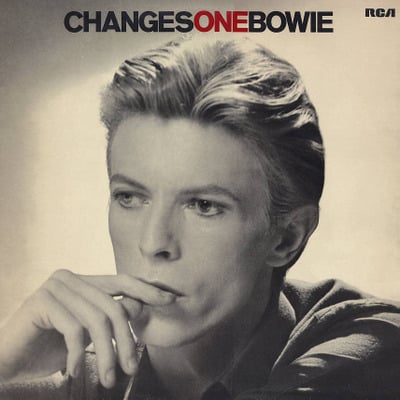 Changesonebowie
by David Bowie (
Rolling Stone
actually lists the album name as
Changesone
) (1976)
Favorite Track(s)
: "Space Oddity" and "Changes" and "Rebel Rebel" and "Fame"
Thoughts
: I don't think I understood the allure of David Bowie until Amber showed me
Labyrinth
. Which is why the absence of "Magic Dance" on this greatest hits album is a damn shame. But it came out in 1976 and that movie wasn't made for another ten years, so I suppose that's as good an excuse as any.
It's no surprise that as a greatest hits album,
Changesonebowie
's songs are epic and varied. Bowie is able to take on so many different kinds of music and singing, it's astounding. If someone played these songs for me without knowing anything about David Bowie, I'm not sure I would have guessed they were all by the same man (sort of like Bob Dylan). I'm actually surprised this album would be so low on the list, but I'm assuming that's because there's a lot more Bowie to come.
Currently I can't hear "Changes" without thinking of this
video
and Time Lords.