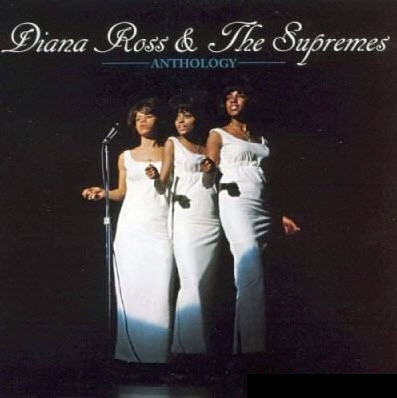 Anthology
by Diana Ross & The Supremes (1974)
Favorite Track(s)
: "When the Lovelight Starts Shining Through His Eyes" and "Where Did Our Love Go" and "Baby Love" and "Come See About Me" and "My World Is Empty Without You" and "You Can't Hurry Love" and "You Keep Me Hangin' On" and "Love is Here and Now You're Gone" and "Reflections" and "Love Child" and "I'm Gonna Make You Love Me" and "Someday We'll Be Together"
Thoughts
: Aw, yiss. Motown, you belong
all over
this list. And your reigning queens deserve to be
at least
this far up. Ladies represent!
I've had Diana Ross on the brain a lot lately, first after seeing her on
Oprah
and then catching
The Wiz
the other night on TV. I've always been intrigued by her relationship with Michael Jackson. He covered a lot of her songs, they worked together on
The Wiz
(and before for Motown-related purposes), he wrote the song "Dirty Diana" (was it about her?). I wish I heard a statement from her of some kind after he died. (Not that one doesn't exist, I just missed it if it happened.)
I also love the musical
Dreamgirls
, so I'm curious how close it is to the real story of The Supremes. No matter what, the music of this group holds up, and I hope it always does. I can't believe how many of their songs I know forwards and backwards (thank you, KISN 97.1 Oldies in Oregon, even though you no longer exist. Your station gave me a wonderful musical education in my childhood). Most of these songs were written by the prolific
Holland-Dozier-Holland
team, my favorite of which I think really has to be "Forever Came Today", except the version by The Jacksons (or Jackson 5) rather than The Supremes. Honestly, I can't ever get enough of this song. It gets me jazzed up like CRAZY. I know I've posted a video of it before, but that's the fun of a blog: I can post the same damn video as many times as I want!
First, The Supremes version, which is nice.
You get it, she's in love, she finally found someone, blah, blah, blah. Listening to this version just makes me ache to hear the Jacksons sing it.
With a simple tempo change (and the most talented R&B family ever) you get
pure golden unicorn sunshine puppy hope love sexy disco shiny glorious goodness.
The dancing! The horns! The energy and sincerity and funkiness! You guys,
forever came today.
The Jackson brothers want you to know that they have found love and THEY WILL NEVER BE THE SAME.
I mean, COME ON.
Side Notes:
- I need to say that the Supremes covering "A Hard Day's Night" and a medley of songs from
Funny Girl
are very, VERY random covers, but I'm not complaining.
- "I'm Gonna Make You Love Me" is just begging to be karaoked. And to make me watch
Blackpool
again. If you're interested in melting from your head to your toes, listen to Stevie Wonder sing it with Diana:
GOD HAVE MERCY.
(I listened to the original 1974 release song listing, even though it meant 13 less songs, which I'm sad to not listen to, but I have to get to the other albums!)