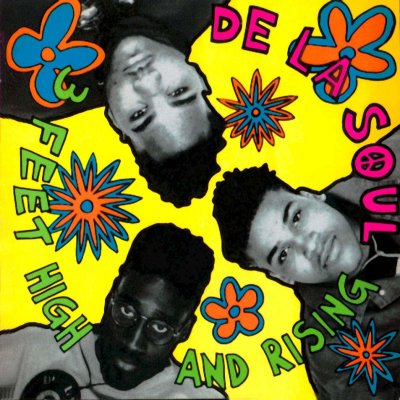 Three Feet High and Rising
by De La Soul (1989)
Favorite Track(s)
: "The Magic Number" and "Cool Breeze on the Rocks" and "Jenifa Taught Me (Derwin's Revenge)" and "Ghetto Thang" and "Eye Know" and "A Little Bit of Soap" and "Say No Go" and "Me Myself and I" and "I Can Do Anything (Delacratic)"
Thoughts
: I have to say I didn't know who De La Soul was before today. But this hip-hop album was the
sh*t
. The samples for their songs were all over the board: Led Zeppelin, Michael Jackson, Johnny Cash, The Monkees, Hall & Oates, Jefferson Starship, Beastie Boys, Kraftwerk, Parliament, Billy Joel, the list goes on!
But beyond the sweet grooves, the rhymes were clever and impressive, and the content never once made me weep for mankind! Definitely recommend.
Is This Better Than
A Hard Day's Night
?
: Oh yes.
(Image)