3.29.2012
Obviously I didn't see EVERY movie released in 2011, so this list is (and always will be) premature. This weekend I hope to see
Pina
and that might need to be added. And someday I need to watch
Shame
,
Hanna
, and
A Dangerous Method
. We'll see.
Most Beautiful: The Tree of Life
Thanks to my friend Spiro, I own this movie. It made me think so much about family and my parents' upbringing, as well as my faith.
Most Creepy? Best Slow-Burn? These Two Are Hard to Categorize: Take Shelter & Melancholia
I would even recommend watching them as a double feature.
But if you could only watch one, I would say
Melancholia.
I
loved
it.
Most Empowering: The Girl with the Dragon Tattoo
I wanted to see this movie for David Fincher, and to find out what the big deal is about Lisbeth Salander. I left the theater with all my senses heightened, and totally obsessed.
Most Delightful: The Muppets
I saw this with Kj, which doubled if not tripled the delight. So nostalgic and fun and moving. I know everyone loved how charming
The Artist
was, but for me this was in a whole other league of classic cute.
Most Stylish: Drive
Watching this movie was like being transported into a dangerous 80s music video. I never knew what was going to happen next, and I fell in love with the lead characters.
Yes, it's exceptionally violent. I just covered my eyes.
Most Tearful: Beginners
This movie made me cry like crazy. The relationship with the dog alone, not to mention Christopher Plummer's EVERYTHING.
Most Anger-Inducing: 50/50
If you combine bits of this movie with
Wit
(2001) you can get a pretty close picture to my life in 2009 and 2010. Yes, both those movies are about people who had cancer and no, I did not have cancer. When they start making movies about oversized meningoceles, I'll get back to you. From the horrendous girlfriend to the horrendous therapist (yes, she was awful) to the horrendous medical professionals, to the scene at night with the dog and ALL the hospital stuff, this movie rips me to shreds. In a good way...?
Most Surprising: Thor
I am so over comic book super hero movies that I am UNDER them (except for X-Men). But then
Thor
came along with a wonderful twist: the hero has always had super powers, and he's an arrogant ass about it, and has to learn humility! Give me this story over the I-was-weak-and-scrawny-but-now-I'm-a-beefcake (I'm looking at you, Spider-Man and Captain America). It was funny, the CGI didn't make me want to scream, and it had Idris Elba and Tom Hiddleston. Enough said.
Most Predictably Good: Midnight in Paris
It's a Woody Allen movie about time-traveling in Paris. Was there anything unexpected here? No. Was it pleasant and pretty, funny and sweet? Yes.
Most Ambitious if Flawed: Higher Ground
I can't imagine it's easy to make a movie about evangelical Christianity (bordering on Fundamentalist) without 'preaching' to the audience, but I think Vera Farmiga came closer than most I've seen. There were narrative holes and strange character motivations (or lack thereof) but so many moments and scenes rang true and honest without being judgmental or necessarily critical. I can't wait to see it again.
Honorable Mentions: Bridesmaids and Mission Impossible: Ghost Protocol.
What were some of your favorites?
And it's ok if you say
The Artist.
I won't delete your comment.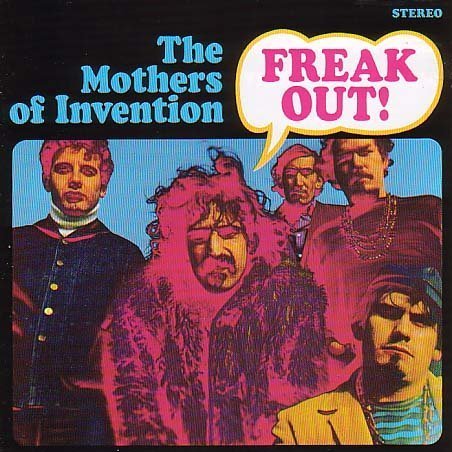 Freak Out!
by The Mothers of Invention (1966)
Favorite Track(s)
: "I Ain't Got No Heart" and "Go Cry on Somebody Else's Shoulder" and "Motherly Love" and "You Didn't Try to Call Me" and "Any Way the Wind Blows" and "Trouble Every Day"
Thoughts
: This is our second Mothers of Invention/Frank Zappa album.
Freak Out!
was their debut album, and released about a year earlier, it apparently influenced the making of
Sgt. Pepper's Lonely Hearts Club Band
, which is
the #1 album on the list. (In case you're wondering, that's the most frequent question I get when people find out I'm listening to all 500 albums. And so far no one has contested its ranking--at least not in front of me.)
Random: who else thinks of Queen when they see the title "Any Way the Wind Blows"?
The first half of the album was fun, but the second half got a bit too crazy and out there for me. Just personal preference. Lots of female moaning and monkey screeches aren't the way to my musical heart. But to each their own.
Is This Better Than The River?
: I realize this album is considered way ahead of its time, but I would listen to
The River
before it
every
time.
3.28.2012
Live Dead
by The Grateful Dead (1969)
Favorite Track(s)
: "St. Stephen" and "The Eleven" and "Turn On Your Love Light" and "Death Don't Have No Mercy" and the sung portion of "And We Bid You Goodnight"
Thoughts
: First off: I love the album title. So. Clever. (Simple pleasures for simple minds, I know.) Second: I love the album cover. It really stands out.
According to Wikipedia, this was recorded over a series of 5 concerts in early 1969, and at the time of its release, Robert Christgau wrote that side two of the double album "contains the finest rock improvisation ever recorded." I agree. The second side (of the four) was my favorite. Unless he meant sides three and four (the second half of the album as opposed to the second side). Damn semantics!
Is This Better Than The River?
: It's much more 'background music' than
The River
could ever be to me, but I assume it gets better listen by listen, so I'm going to say it's at least as good.
Bryter Layter
by Nick Drake (1970)
Favorite Track(s)
: "Introduction" and "Hazey Jane II" and "At the Chime of a City Clock" and "One of These Things First" and "Hazey Jane I" and "Bryter Layter" and "Fly" and "Northern Sky"
Thoughts
: Sad news, friends: I believe this will be our last Nick Drake album. He didn't get to make as many as we'd have liked. Which is a thousand. So we will savor this one as much as we can.
From the Alternative Music review from 2001: "With a voice paradoxically feather-light and grave, [one] of the most beautiful and melancholy albums ever recorded." Amen.
From "At the Chime of a City Clock":
Stay indoors beneath the floors
Talk with neighbours only
The games you play make people say
You're either weird or lonely
A city star won't shine too far
On account of the way you are
And the beads around your face
Make you sure to fit back in place
And don't get me started on how much I love "One of These Things First." I put it in
my tribute photo video
for my grandpa John. It's really wonderful to listen to when looking at old family photos. Or doing anything, really. It's a beautiful love song:
I could have been your pillar
Could have been your door
I could have stayed beside you
Could have stayed for more
I could have been your statue
Could have been your friend
A whole long lifetime
Could have been the end
Honestly, I think this album is one of my desert island discs. "Northern Sky" alone makes it worthy. I named
my wedding style blog
after this song.
I never felt magic crazy as this
I never saw moons knew the meaning of the sea
I never held emotion in the palm of my hand
Or felt sweet breezes in the top of a tree
But now you're here
Brighten my northern sky
I've been a long time that I'm waiting
Been a long time that I'm blown
I've been a long time that I've wandered
Through the people I have known
Oh, if you would and you could
Straighten my new mind's eye
Would you love me for my money
Would you love me for my head
Would you love me through the winter
Would you love me 'til I'm dead
Oh, if you would and you could
Come blow your horn on high
I never felt magic crazy as this
I never saw moons knew the meaning of the sea
I never held emotion in the palm of my hand
Or felt sweet breezes in the top of a tree
But now you're here
Brighten my northern sky
It sounds like it could have been written yesterday. THIS is timeless music. (Though I say that about most 60s/70s singer-songwriters, don't I?)
Is This Better Than The River?
: Yes.
The Shape of Jazz to Come
by Ornette Coleman (1959)
Favorite Track(s)
: "Lonely Woman" and "Peace"
Thoughts
: JAZZ! And free-form jazz, no less. A joy to listen to. Don't have much to say about it as my knowledge of Jazz goes only as far as my enjoyment of it. Give it a listen!
Is This Better Than
The River
?
: Different, and just as good.
Age:

27. I learned last night that I am about a week older than Kiera Knightley. It was quite a blow.



Bedsize:

Queen. It. Is. Wonderful.



Chores that you hate:

Sweeping and dusting. I tend to prefer the wetter chores.



Dogs:

Golden Retrievers remain my favorite.



Essential start to your day:

Right now, when Déjà Vu
comes on my alarm. Previously it was Elton John's Greatest Hits.



Favorite color:

I really like coral.
Gold or Silver:

Used to exclusively like silver, now I like gold better.



Instruments you play:

I dabbled in piano, guitar, and drums. At one point I really wanted to learn the harmonica.



Kids:

None. And I probably won't be having any. To quote Stuart Smalley: "And that's...OK."



Live:

The great Pacific Northwest.



Nicknames:

Well, the blog title. Also another one that has my last name, so I'm not putting it here, but I love it.



Pet peeves:

Cars that have red turn-signal lights. Are you braking or are you turning!?!



Quote from a movie or TV show:

"I make jokes because it's the only way I can open my mouth without screaming." - Hawkeye Pierce, M*A*S*H S6:E11
Time you wake up:

It varies. Unfortunately.
What makes you run late:

Like Allie said, over-sleeping and excessive cat cuddles.
X-Rays You've Had:

None. But a CAT Scan and a buttload of MRIs.
Yummy food you make:

Smoothies and quesadillas.
Zoo Animal:

If I had to pick just one? Polar bears.