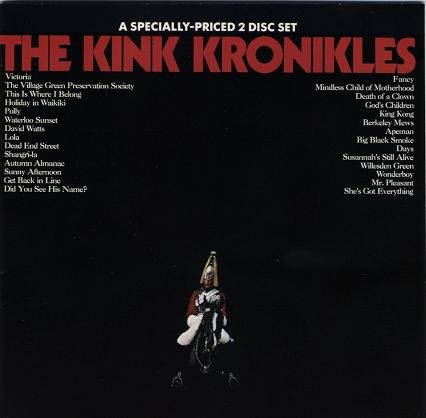 The Kink Kronikles
by The Kinks (1972)
Favorite Track(s)
: "Victoria" and "The Village Green Preservation Society" and "This is Where I Belong" and "Waterloo Sunset" and "Dead End Street" and "Shangri-La" and "Autumn Almanac" and "Sunny Afternoon" and "Apeman" and "Lola" and "She's Got Everything"
Thoughts
: Alright, this is our third, and I believe final, Kinks album. As it is a compilation album that features songs from those two other albums,
The Village Green Preservation Society
and
Something Else
, I was nervous we would have
another Byrds debacle
on our hands. But there are enough songs from other Kinks albums on here (it's two discs/a double album) that I think I can let the over-lapping slide this time. Especially since lots of the songs are unreleased (in the U.S.) songs and b-sides and such, as opposed to just greatest hits. Plus, and I might get flack for this, The Kinks are in a whole other league than The Byrds. They're quintessentially British, yes, but Ray Davies' song-writing skills are so impressive. Kinks songs are so...colorful. From "Big Black Smoke":
Well, she slept in cafes and coffee bars and bowling alleys
And every penny she had
Was spent on purple hearts and cigarettes
I listen to a Kinks song and I can visualize a whole (British) world and story from it. Like one "Penny Lane"-esque song after another.
Is This Better Than The River?
: As good to me.