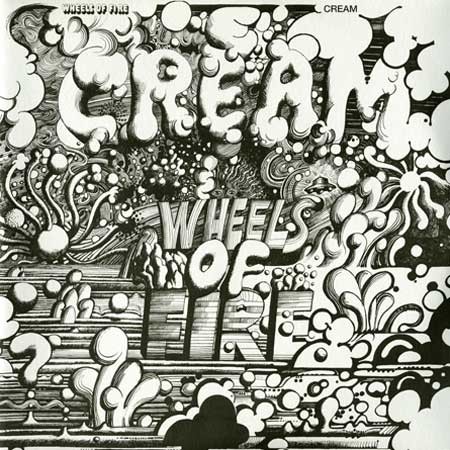 Wheels of Fire
by Cream (1968)
Favorite Tracks
: "White Room" and "Sitting on Top of the World" and "Passing the Time" and "As You Said" and "Politician" and "Those Were the Days" and "Born Under a Bad Sign" and "Deserted Cities of the Heart"
Thoughts
: Our first Cream album! I'll be honest, all I know about Cream is that Eric Clapton was in it. But I knew I would probably love this album, since it's classic psychedelic/blues rock.
I've definitely heard "White Room" before...was it in a famous movie? There's a very good chance I heard it on
Supernatural
, since they use classic rock liberally (which is probably my favorite thing about the show).
"Passing the Time" seemed pretty boring at first, but then it turned into this darling sweet orchestral fable/song before launching into a harder rock. Loved it! Take me back to 1968. Well, just for the music. But then I want to come back to now. :) "As You Said" was also surprisingly beautiful and folk-infused. I think I even heard a mandolin! It was so lovely.
I didn't love the second side as well as the first, it was a bit darker and more psychedelic but I still really enjoyed listening to it. Overall this album rocks and I would definitely recommend it.
Is This Better Than The River?
: I wouldn't listen to it as often as
The River
, but I wouldn't argue it was worse!